AFB-350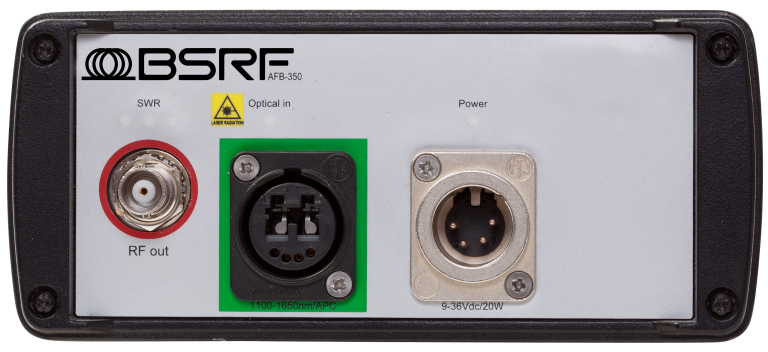 Product Description
AFB-350: Single Tx Antenna Fiber Box
AFB-350 allows transmission of RF signal to one antenna through fiber optics. It comes with a built-in simple SWR indicator.
With its rugged housing and 12V on XLR4 power, it is designed for location or live market.
Integrated amplifier can output one carrier up to 500mw (27dBm). More carrier can be ouputed with reduced power.
Find here informations about fiber and connectors: fiber & connectors
For more informations contact us at contact@bs-rf.com.
Specifications
Bandwidth
100Mhz – 1Ghz
Noise Density
-113dBm/Hz
IMD3
-45 dBc two carriers at 20dBm – df of 1MHz
Max power
One carrier
500 mW
Two carriers
100 mW
RF output
1xBNC 50 ohms
Optical input
OpticalCon Duo Neutrik APC monomode 1310nm
Current
800 mA
Supply
XLR4, 12W max
Dimensions
155 x 180 x 70 mm
Weight
1,5 Kg