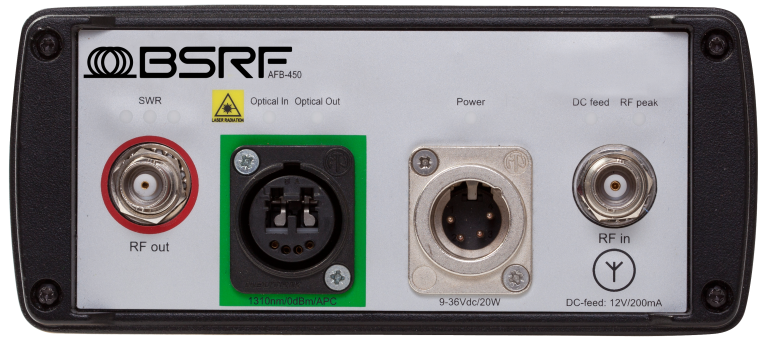 AFB-450
Description
AFB-450 : Duplex TxRx Antenna Fiber Box
AFB-450 is a duplex remote antennas box that modulates one transmission and one reception antenna signals in one single Neutrik OpticalCon Duo plug. With its rugged housing and 12V on XLR4 power, it is designed for location or live market. The AFB-450 comes with a built-in simple SWR indicator on the TX side. On the RX side a RF peak led indicate if the RF field is too strong. A buit-in 10dB RF attenuator can be switched on at the startup of the device.
Integrated amplifier can output one carrier up to 500mw (27dBm). More carrier can be ouputed with reduced power.
Find here informations about fiber and connectors: fiber & connectors
For more informations contact us at contact@bs-rf.com.
Specifications
Bandwidth
100Mhz – 1Ghz (TX)

470MHz-800MHz (RX

Noise Density
-113dBm/Hz
IMD3
-45 dBc two carriers at 20dBm –df 1MHz
Max power
One carrier
– 500 mW
Two carriers
– 100 mW
Four carriers
– 10 mW
RF output
1xBNC 50 ohms
RF input
BNC 50 ohms
DC feed
12V/200mA
Input attenuator
0/-10dB
 Optical input/output
OpticalCon Duo Neutrik
Current
950 mA
1,1 A with an active antenna
Supply
XLR4, 20W max
Dimensions
155 x 180 x 70 mm
Weight
1,6kg
ADH-400
Description
ADH-400 Duplex Station (TX: 2 coax, 2 fibers/ RX: 1 coax, 2 fibers)
ADH-400 is an hybrid duplex station allowing both transmission and reception signals carriage through fiber optics, it also features direct coax input and output. ADH-400 perfectly matches with wireless intercom base stations such as RTS BTR700/800/80.
For transmission section, ADH-400 allows sending RF signal to an OpticalCon Duo fiber output and directly to a nearby coax antenna. For reception section, ADH-400 can combine one fiber and one coax inputs to one output.
ADH-400 works with a duplex remote antenna box AFB-450 (TxRx) through a single OpticalCon Duo connector
Output RF power at the AFB-450 side can be set with potentiometer on the front of the ADH-400 for the two channels (not showed on the obsolete picture).
Specifications
TX:
| | |
| --- | --- |
| Bandwidth | 100-1000MHz |
| RF input power | min. 30 mW, max. 500 mW |
| RF in/out insertion loss | 2 dB Typ. |
| RF inputs | 2 x BNC 50 ohms |
| RF  direct outputs | 2 x BNC 50 ohms |
| Optical outputs | 1 x Neutrik OpticalCon Duo APC 1310nm |
| |  optional 2nd  optical output |
RX:
| | |
| --- | --- |
| Bandwidth | 470-800MHz |
| DC feed | 12V/200mA |
| | |
| --- | --- |
| Supply | 110-220V |
| Dimensions | 435 x 250 x 43 mm |
| Weight | 3,1 Kg |